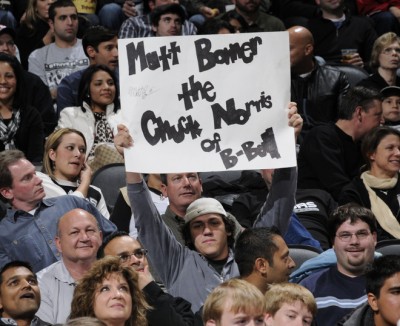 I can't remember the last year when watching the Spurs from the get-go has been such a pleasure. The perennial stalwarts on defense have been replaced by a more up-tempo and free-shooting team. Don't get me wrong, they can still lock other teams down when they need to, but clearly the philosophy has changed as the the roster has gotten significantly younger.
The usual Spurs' detractors always like to point to age, but guess what - the Lakers are now the oldest team in the NBA. With new faces like Tiago Splitter, Gary Neal, and James Anderson all putting in quality minutes and energy while learning the system, as well as sophomore-year stars like DeJuan Blair and Richard Jefferson finding their stride (although I could do without R.J.'s continual Michael Jackson-like cry of "and one" every time he goes to the rim) alongside a budding George Hill, the "Big Three" have found the support they need to make a deep run into the playoffs.
Splitter has the potential to supplant Pau Gasol at his own game, he is just really green right now and plays antsy when he gets some minutes; his progression is going to be the most important thing to watch as the playoffs approaches, as he'll probably need to take over some of Duncan's minutes to get him rested (even though Timmy is already only averaging just under 30 minutes - and they are 19-3).
The early surge is vastly important, as last years team had to struggle to even make the playoffs and force their aging crew onto the floor longer than they probably should have been. The good news this year, is that all of the Spurs' young guns that will one day be the bedrock of the franchise - DeJuan Blair, George Hill, Matt Bonner, and Tiago - have shown tremendous upside and have reinforced just how talented the Spurs' main-office has been at building toward a post-Duncan era.
Hell, Gary Neal has already proven that he is a one man team: