There is something to this year's Super Bowl that just seems, well,
epic
.
Steelers
Offense
:
Ladies and gentlemen (or probably just gentlemen in the court of public opinion), you have the "redemption" of Big Ben Rothlisraper. I give the guy a lot of grief for his full-moon hound-doggin' of drunk co-eds, but honestly, we are a forgiving society (especially if you are a winner). If you think about it, should we expect much from a guy who intelligently smashed his motorcycle and head through the rear window of a dodge while not wearing a helmet? If his thought processes pre-accident were like that, how can anyone expect his enfeebled brain to process alcohol in a
good
way.
Urge...to rape....rising....
Obviously, either his "don't rape" part of the brain was severely injured, or the blow to the head activated his viking rapaciousness.
Yet, his neanderthal nature has been honed into a skill-set that the sportswriters nation-wide have dubbed "playground football." It's not pretty, but it wins Super Bowls. The big injury from the AFC championship game was to the ankle of their athletic rookie center Pouncey; though Pouncey himself is throwing out that he is 75% to go at the big game, people in the know are treating his statements as little more than gamesmanship.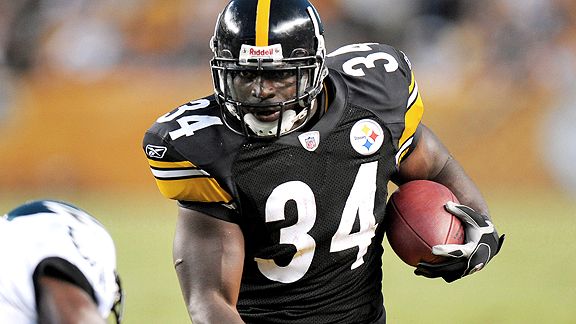 Can Mendenhall negate the GB's pass rush?
What this means is that offensively, it's going to come down to how well Pittsburgh is able to run downhill with their RB Mendenhall, and how many big plays Ben is able to convert with Mike Wallace while he running for his life and playing "playground football"; believe me, there is a good shot that Ben is going to get pummeled. For a quarterback of lesser stature and greater mental fortitude, that would be a problem (see Aaron Rodgers below); a sack-fearing QB is more likely to skittishly anticipate the rush and make mistakes. The good thing for the Steelers is that Big Ben's capacity to think has already been proven to be questionable, so blows to the body and head are minimized in their importance with a guy his size (who is already notoriously hard to bring down). If Green Bay gets too pressure happy, Ben will make them pay eventually.
Defense
:
Defensively, it's pretty safe to assume that the Steeler's Defense is going to lock-down the Packers' young-blood, Starks. The most important variable, like always, is Troy Polamalu and how healthy his achilles is. A healthy Troy limits a lot of good things even the best quarterbacks can do - plus he is almost guaranteed to either force or recover a turnover per-game. In the AFC championship game, he appeared pretty uncertain on that ankle, and didn't show the same explosiveness that he uses to close across the field. Luckily for the Steelers, his mere presence commanded so much respect from Mark Sanchez, that CB Ryan Clark was able to have a huge game due to Sanchez's decisions to mostly throw
away
from Troy.
As the best
D
in the league, there is no way that Green Bay is going to stymie Pittsburgh's pass rush for the entirety four quarters. Eventually they
will
get to Aaron Rodgers; how early they get to the Green Bay QB may dictate the outcome of the Super Bowl.
For destiny's sake, it also doesn't hurt that the Steelers made it to the big game to the tune of one of the best team songs of all time:
Packers
Offense:
I admire Aaron Rodgers for his stick-toitiveness as a Packer. It must have been hard having Brett Favre flash his willy every day in the showers while Rodgers waited for a shot to start. Yet, here he is at the Super Bowl, erasing the the final vestiges of the ol' gunslinger from Packers' lore as he goes. The kid has a big arm, decent scrambler, and is one of the most accurate passers in the league - if he doesn't get touched.
For Green Bay, I expect this game to play out similarly to their NFC title game with Chicago. If the Packers front-line is able to weather the Steelers' storm, I expect the Packers to able to score quickly and efficiently - especially in the perfect-weather conditions of Cowboy Stadium. We saw what kind of god-like numbers Rodgers was able to put up in Atlanta's dome where conditions are more favorable to offenses that rely on timing and precision, like the Packers.
Rodgers needs another concussion like he needs...another blow to the head.
The big elephant in the room is that Rodgers is one blow to the head away from getting side-lined for good. He came precariously close to, and may have even had a mild concussion in the NFC championship game after Pepper's cheap shot to the side of the head; but for Rodgers, it may be his only kryptonite. For all the games he puts up big numbers, the Bears proved that he can turn pedestrian real fast after a debilitating shot, especially with his recent concussion history this season. If Rodgers can avoid the big hit for most of the game, Green Bay has a real shot of lighting up the Jerry-Tron early with Greg Jennings before Pittsburgh can make adjustments.
Oh, and then Rodgers can do his victory "championship belt" dance I loathe so much:
Defense:
The big plus this week for GB is that the Steelers will probably suit up at the Super Bowl down their most important piece on their front line in Pouncey. There is no if the Packers will get to Ben, it's when and how often. I expect GB's all-star Matthews to have a big game providing ample pressure, which will give their opportunistic secondary some shots at some big plays. Granted, the Packers' secondary is inferior to the Jets', but their pressure schemes are more effective than the Jets' were by far.
Aiming for Polamalu's hair endorsements, are we?
The big tests will come when Big Ben is able to escape the rush, and whether or not Green Bay's secondary will be able to stay disciplined in man-to-man situations against Steeler wideouts that are highly trained in adjusting to Ben's improvisation. The biggest weapon for Green Bay's defense will be their offense this weekend; if the Packers can get up on the Steelers early (which they are capable of doing in a dome), they can in turn make the Steelers more one-dimensional, negating the potentially debilitating Pittsburgh ground game. Taking away the running game will allow Green Bays aggressive defensive front to tee-off on a weakened Pittsburgh offensive line, and cause some real havoc.
Final Prediction
Super Bowl XLV will come down to whether or not the Steelers will be able to establish their running game early; with their big-game experience and the way Mendenhall has been playing - I expect them to. Their half-a-quarter opening drive in the AFC championship game proved to me that they have the goods to lean on Mendenhall and control tempo, thus keeping the aggressive GB pass rush at bay and, more importantly, the explosive Rodgers and company on the sideline.
Final Score:
Pittsburgh: 31
Green Bay: 28
Thoughts? Post 'em below!