Breakdown of my 2K11 Fantasy Draft, and the 5 Stages of Fantasy Grief
As opening weekend looms large, several of you have, or are about to draft your fantasy team(s) for this season. My group of work buddies had our draft about two weeks ago, which in some cases can lead to some anxiety as the season approaches; player health and contract disputes can have you neurotically checking to see if there are any positive trade winds.
For example, last year I drafted (in the 7th of 8 positions) as my first WR in the third round, Sidney Rice. Five days later, the asshole comes out and says he needs hip surgery.
FML
. The 5 stages of "Draft Grief" took hold:
Use cheat-codes Sidney Rice!
Denial and Isolation: "Nah, it's just a strain. Rumor has it that he'll be game ready. No seriously, I don't need any help.


Anger: "Really, Sidney Rice? Those fucking Murderball crips are game ready, and they don't need legs!"


Bargaining: "I will trade you...Peyton Manning....for Keyshawn Johnson?"


Depression: "This was going to be my year. I have no other masculine pastimes - I can't fail at this!"


Acceptance: "Oh, Michael Crabtree is still out there. Neat."


Hell, it wasn't even a good year for Peyton Manning, my QB; all of his damn receivers were knocked back to the future with concussions or injuries. I got first runner-up in the losers bracket though - holla at ya boi!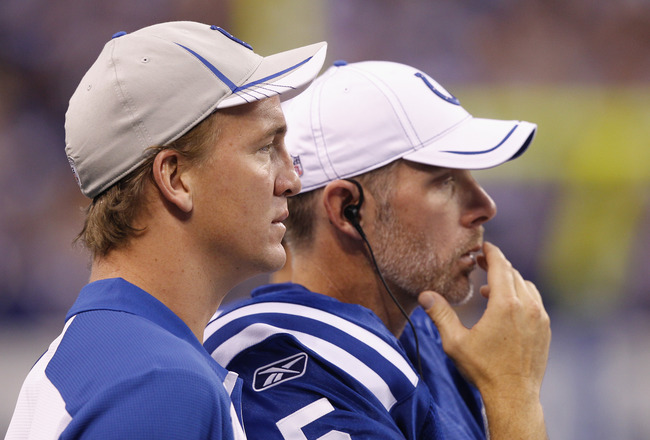 You and your neck won't fool me a second time, Gypsy!
A new batch of contenders were assembled - let us gaze upon these mighty digital warriors of the "15 Balls Deep" league.
Fun Fact #1:
15BallsDeep is a reference to the fact that between 8 of us, there are only 15 testicles. Cancer, you need to go die in a fire. Can you figure out which contestant has one nut?
Fun Fact #2:
I forced romolover6969 to take that name after making him my Texas Hold 'Em whipping boy. Obviously, he is a Steeler's fan. Black and Yell0wnd!
This year would be different. Premonitions of greatness swirled through my head as I decided upon two very distinct strategies depending on what part of the draft order I got. If I got to pick in the 1-4 range, I was going to stick with the pack's trending (which is usually gobbling up all the RBs); yet, if I was in the latter half, I was going to consciously buck the trend and move down from there, hopefully resulting in having the best of the rest.
My pick order this year
: 6 of 8
My Resulting Offense
:
How about the D?
Analysis
:
Not too shabby if I say so myself. I was able to buck the first round RB trend when it hit me at #6, selecting a QB in Vick that will get both the RB and QB bonuses; yes, it is a gamble considering the way Philly's starting O-line performed in preseason, which seemed to portend Vick's rag-doll demise (not shown: I have Romo as my backup. Hmm, I guess I am the romolover6969). If I can't package him for some depth or upgrades in other areas, at least I think I can be assured 3-4 wins with Vick alone and that starting cast.
Ultimately, I came away with just a weak TE, and not much depth at RB past Chris Johnson (thank you baby Jesus for that contract). I do have Beanie Wells on the bench, who has been getting some hype as of late, so maybe I am sitting on a diamond in the rough.
The last thing you see before you die.
As I have come to find out, though, even the best plans and drafts can be swiftly undone by the cruel hands of the injury gods and/or strip club shootings. In an 8 man league, most starting lineups can and should be pretty decent, so it really can come down to whose hot on what day. I'll do some updates with results and team breakdowns week to week if I don't get too bogged down by gradschool.
What about you guys? How did your fantasy teams pan out?
Jody's Mustache -
out
!